OUR FAVOURITE LUXURY ECO HOTELS
It's no secret that the travel industry isn't very environmentally friendly. Unfortunately, our beach holidays and poolside getaways might be good for our souls, but they're not kind to the world around us.
If you're like us and love to live a life of luxury, but you're eco-conscious, this article is for you. Today, we're sharing our favourite luxury Eco hotels. Why don't you grab your flip-flops and favourite sustainable swimming shorts, and we can start exploring these one of a kind eco paradises?
Soneva Fushi, Maldives
If you love clear seas and bright white beaches, it's likely The Maldives is on your travel bucket list. Soneva Fushi is located on the sunset side of the island. Built on the clear Indian Ocean, the Soneva Fushi villas give beachfront accommodation a whole new meaning. With signature experiences (including water sports, surfing, cinemas and a spa) and outstanding locally sourced food, the Soneva Fushi truly is a beachside destination of dreams.
 It's clear that Soneva Fushi is a luxury anyone would be lucky to experience, but what makes this showstopping destination eco-friendly? The Soneva Fushi has a range of sustainable initiatives, covering numerous ongoing environmental issues in the Maldives and across the globe. All stays at the Soneva Fushi include a 2% environmental levy. This money goes towards the Soneve Foundation, a foundation that tackles a range of social and environmental issues. By introducing this levy back in 2008, the Soneva Fushi has been able to offset the carbon emissions from resort activities and visitors flights.
 In addition to their environmental levy, the Soneva Fushi runs a campaign titled 'The Myanmar stove campaign'. The Myanmar stove campaign subsidies and distributes fuel-efficient cooking stoves for families in Myanmar. These stoves reduce 2.5 tonnes of wood, reduce air pollution by 80%, and reduce carbon emissions by 60% per year!
These stoves provide the people of Myanmar with healthy, environmentally friendly cooking appliances whilst protecting the natural landscape and raw materials. Soneva Fushi's environmental and social initiatives don't stop here. Being surrounded by beautiful ocean life, the team at Soneva Fushi are dedicated to protecting marine environments. The resort's team of resident marine biologists run a successful coral rehabilitating programme that allows beautiful, vibrant coral to thrive in local waters.
The Brando, Tetiaroa
Another luxury eco-hotel providing a sustainable beachside experience is The Brando. Located on the French Polynesia island of Tetiaroa, the Brando resort has thirty-five villas on beautiful white-sand beaches. These pristine beaches are home to exotic birds, sea turtles and other island wildlife. If you're visiting The Brando luxury eco-hotel, be prepared to share your morning sunrise with a friendly sea turtle or two.
 The Brando team are passionate about living in harmony with the natural world surrounding them. With this ethos in mind, the resort ensures its buildings don't obstruct or destroy the local landscapes. All materials used in creating the Brando resort are local, environmentally certified, renewable or recycled. Energy used to fuel the Brando comes from either solar power or biofuel. To further this energy-saving initiative, The Brando uses deep water air conditioning, reducing energy levels by a further 70%! Brando's eco-initiatives are admirable and has earned them the LEED platinum award, making them the first resort to be awarded the Leadership in Energy and Environmental Design status.
Kokomo Private Island, Fiji
Hidden amongst tropical beauty, Kokomo Island is the definition of an island paradise. What makes this resort so unique is its seclusion. Away from the hustle and bustle of tourist culture, Kokomo Island is hidden in the south of Fiji. The undisturbed natural landscape means Kokomo is brimming with beautiful tropical plants, exotic animals and breathtaking landscapes. You can spend your days taking in these natural wonders or get the adrenaline pumping with some motorised water sports, surfing, and a whole host of other ocean-side activities.
 Koko Island understands that protecting and preserving its surrounding natural landscape is paramount. To achieve this, the Koko island team run several environmental projects across the resort. Amongst these eco-initiatives is Seawater Desalination that provides clean drinking water and fresh sea salt for cooking. They run a recycling programme that helps reduce island waste and lower levels of pollution and carbon emissions. And the 'Kokomo Acoustic Manta Project'. The Kokomo Acoustic Manta Project protects and preserves the local manta rays that inhabit waters in Fiji. Not only does the resort run ongoing conservation and protection programmes, but the creation of the Kokomo island had sustainability at its core. The Kokomo island architects implemented sustainable design, using natural, raw materials that contribute to the beauty and wonder of the natural landscape.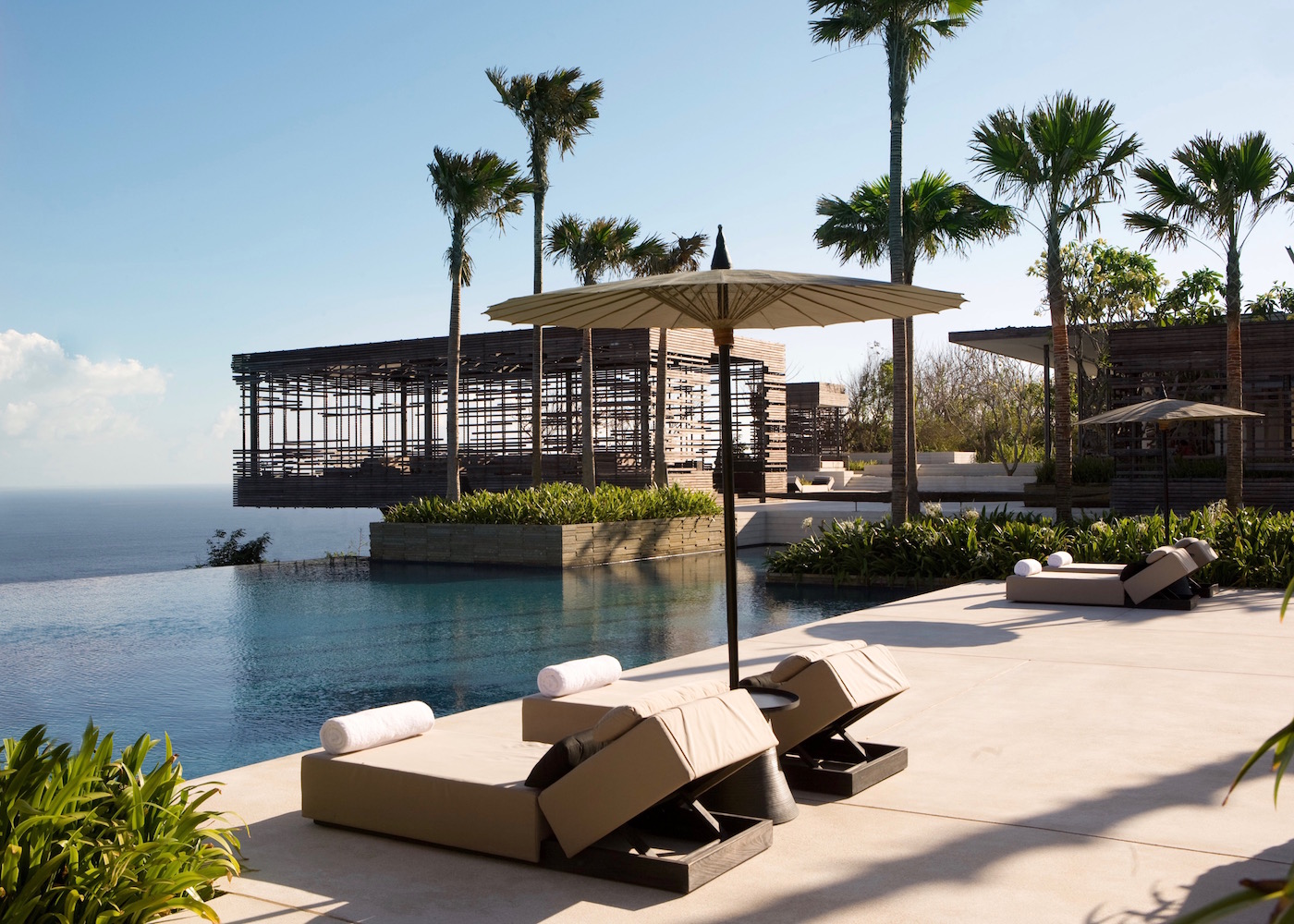 ALILA Villas, Uluwatu, Bali
Situated at the top of a cliff looking over the Indian Ocean, you won't discover a more incredible view than those from the Alila Villas in Bali. These incredible villas take inspiration from the one of a kind Balinese landscape. The innovative architecture and design of this resort bring the outside in, creating a luxury experience infused with the tranquillity and beauty of the natural world.
The ALILA Villas attain an environmentally friendly ethos and have ongoing sustainable programs running across the resort. These sustainable projects include using local materials, water conservation and waste management. Construction of the ALILA villas prioritised protecting the local environment and using recycled materials. At the core of their sustainability efforts is a sustainability lab that assists the resort's zero-waste policy. All waste materials are reused, regenerated or composted to create products or materials that support the running of the resort or give back to the environment. Following their zero waste policy, the ALILA villa has now eliminated all single-use plastic.
 If you're worried about the carbon footprint your summer holiday is having, these luxury eco-resorts are your ideal destination. Take some time away from the real world and unwinded in a beautiful beach-side paradise, without having to worry about the environmental impact. These four hotels are leading the eco-friendly travel movement. Every one of these luxury eco-resorts functions according to its sustainable ethos and ethics. However, each one has a unique, innovative and creative approach to reducing their carbon emissions and protecting the natural landscapes that surround them. These resorts prove it's possible to live a life of luxury and protect our planet at the same time.
I think it's about time we grabbed our swim shorts and headed down to the water. What do you think?